Our Response to COVID-19
The Jockey Club Safety Net Foundation is committed to the health and safety of the backstretch community.

We work with chaplaincies and horsemen's groups across the nation on a daily basis to help the men and women who care for our equine athletes and are the backbone of our industry.
At the start of COVID-19, the foundation's initial priority was addressing the immediate need to stock food pantries at racetracks around the country, and coordinating with the Race Track Chaplaincy of America in this effort.

With the future still unknown, we are calling for donations to assist backstretch workers affected by the COVID-19 outbreak across the United States.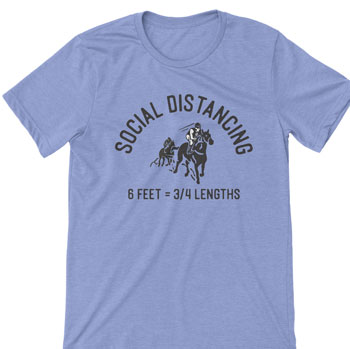 Those who would like to contribute can visit tjcfoundation.org/donate. All donations are tax-deductible.
---

Old Smoke Clothing Co. Fundraiser

100% of the proceeds from the Social Distancing t-shirt will benefit The Jockey Club Safety Net Fdn.

T-shirts can be purchased here.